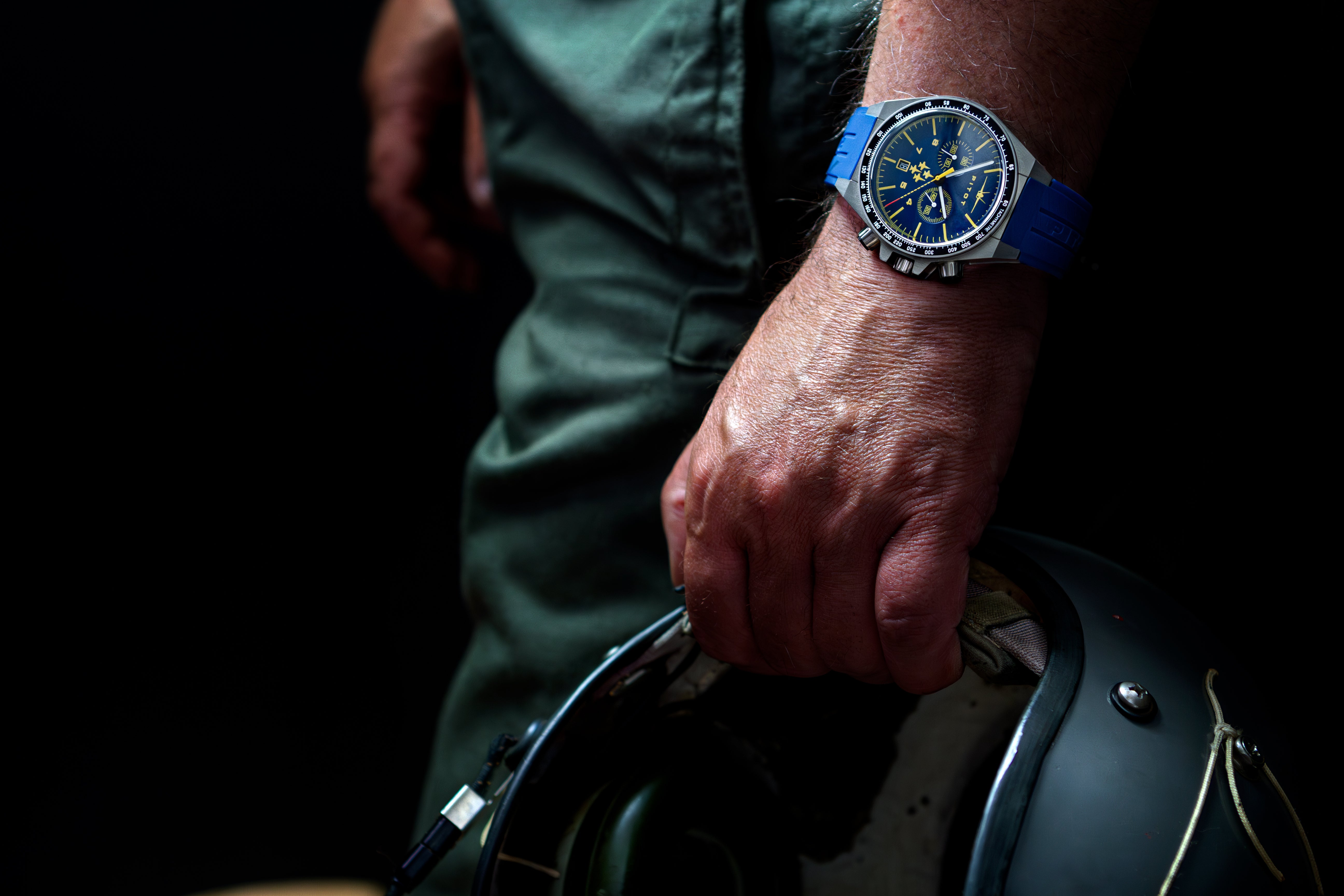 Jun 20 , 2023
We hope this newsletter finds you in high spirits. We are delighted to share the latest updates and exciting developments at Pitot. Read on to discover the remarkable progress taking place in our world of fighter jet-inspired timepieces.
Introducing the F/A-18 Super Hornet Inspired Watch: A Fusion of Power and Elegance.
We
are thrilled to announce our newest masterpiece, the Super Hornet Inspired Watch. This extraordinary timepiece encapsulates the essence of power, precision, and elegance. Meticulously designed with a case that reflects the material, wing shape and tip folding wings of the iconic F/A-18 Super Hornet, and encased in flawlessly polished aircraft alloy titanium, this watch represents the perfect harmony of form and function. Equipped with a Swiss Ronda quartz movement, it ensures unrivaled accuracy and reliability.
Our Upcoming Kickstarter video
We are excited to tell you about our upcoming video, which showcases the breathtaking beauty of the Super Hornet Inspired Watch. Our dedicated team has been working tirelessly to capture the essence of this exceptional timepiece and the remarkable craftsmanship behind it. From behind-the-scenes footage and an interview with the man behind the dream, this short video will take you on a captivating journey into the world of Pitot.
Special Offer: Secure the Super Hornet Inspired Watch at an Unbeatable Price
We have a special offer for our esteemed customers. By contributing just $1, you can secure the Super Hornet Inspired Watch at the lowest possible price. This exclusive opportunity provides an unparalleled chance to own a timepiece that merges aviation prowess with horological excellence. This offer is a limited-time opportunity and surpasses even our early bird discounts. Don't miss out on this unique chance to own a piece of aviation history on your wrist.
Expressing Our Gratitude to Our VIPs
We extend our heartfelt gratitude to our VIP customers for your unwavering support. As a token of appreciation, we invite you to join our exclusive Facebook group, where you will gain access to insider stories, behind-the-scenes updates, and special perks reserved for our loyal community. We value your presence and look forward to creating memorable experiences together.
Stay Connected with Pitot
For the latest news, product updates, and exclusive offers, be sure to visit our website and follow us on social media. Stay connected with Team Pitot and be a part of the journey as we continue to push the boundaries of timepieces inspired by the world of fighter jets.
Thank you for your continued trust and support. We remain committed to delivering excellence and creating timepieces that inspire awe and admiration.
To achieve the best possible saving we encourage you become a VIP member and save 40% of the future MRSP.
---