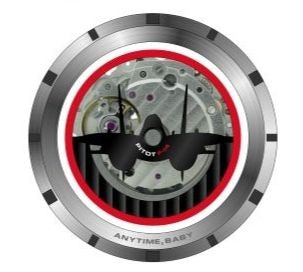 Jul 13 , 2019
The long and awaited Kickstarter campaign for the F14 Tomcat watches with pictures of the real watches is running in next month. So after a long waiting period, we can finally say: Anytime, Baby!
The watches come in four different design colors and are all inspired by the F14 Tomcat, they are the same in shape and dimension and with the same movement and custom shaped F14 rotor on the back that turns for winding the watch while you wear it.
The case has four big air intakes signature on the sides with small black steel PVD coated inserts with a hex screw.
The watches come in different color inspirations from the Iceman Helmet in Top Gun, Mavericks helmet from Top Gun and a VF84 Jolly Roger inspired version.
The Maverick edition come in a Blue PVD coated case but has an option of a brushed case instead of PVD coated if preferred.
The straps vary in color and follow the inspired theme.
The dial shows the F14 Tomcat with extended wings and on the Jolly Roger version, is a skull and bone placed in the memory of the squadron history.
The watches come in five different price steps, and being one of the first give you a good discount! 
Remember to sign on to our newsletter and get mail as soon as we go live with the big Kickstarter campaign.
---