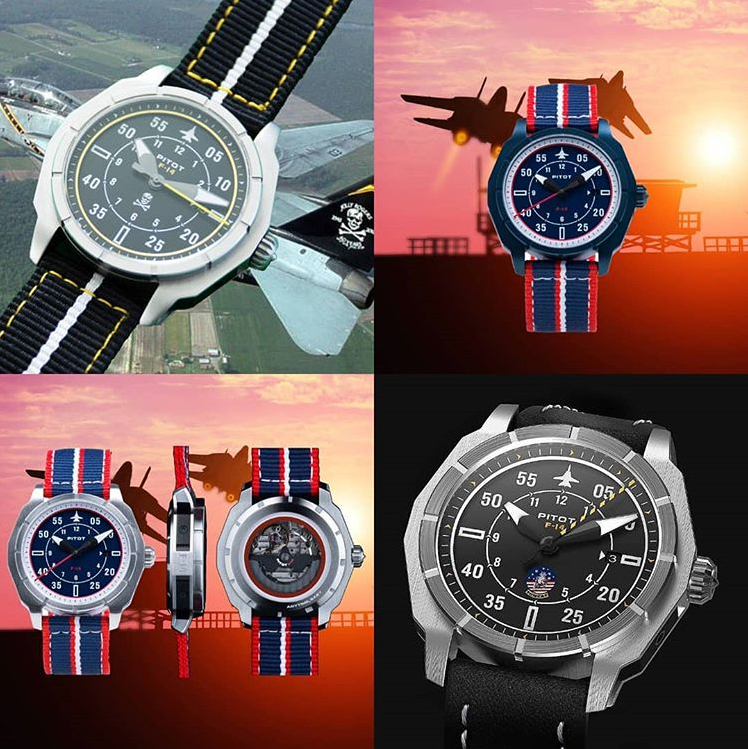 Apr 29 , 2020
The F-14 inspired watches will be live on Kickstarter.com on Friday, May 1.
We will have four different designs in color, dial design, strap material, and surface treatment.
The first F-14 watch we designed, is made by taking the key features from the F-14 Tomcat and getting these significant features into the watch design.
Some of the key features on the F-14 Tomcat is the two engines, double vertical tail fins, swing-wing, and big square air intakes.
One of the most famous fighter squadrons is the VF-84 Jolly Rogers, with a long history of combat experience and significant body artwork with the skull and bones black and yellow theme.
We decided to use the following keyfeatures in the watches:
Air intake, engine fan, Jolly Rogers artwork, the ejection seat pattern, and also the Tomcat logo, skull and bones, and the "Anytime, Baby...!" slogan that are very famous.
The side of the watch has big cut-outs to integrate the big air intakes into he designs, to give it some depth we made steel inserts treated with black PVD surface and fixed with hex screws like the one used in the aviation industry.
The crown is shaped with inspiration from the engine fan and cowling and is made small to avoid irritating the wrist.
All the watches are made in stainless steel 316L and have the same shape, but the surface treatment is different. The F-14 Jolly Rogers inspired watch has a glass bead blasted surface to give it a grey look, that imitates the grey color skin paint.
The Maverick(Top Gun) inspired watch comes with both a brushed and blue PVD coated surface. The blue color is inspired by Maverick's helmet color.
Our latest design, and already very popular, come with a brushed case, black dial with the original Tomcat logo made by Grumman. The second hand is inspired by the ejection seat handle. A black leather strap from Horween comes with his version(The other comes with a 22mm nylon strap).
To give as much value as possible and to really make something unique, we have made a custom-designed rotor in the shape of an F-14 Tomcat seen from behind, it looks very cool when spinning and goes upside down, or "inverted" as being said in the Top Gun movie where Goose take a picture of a supposed MIG and giving the bird.
We have made an upgrade of the Movement to the more well known and robust Seiko NH 35 found in many well-known brands, because of its reliability.
The four watch designs can be purchased by backing the upcoming Kickstarter with launch May 1, and all backers will become VIP members with a lifetime 50% discount on all new watches we develop.
We have also built-in stretch goals to give extra value to the backers in case we get backed more than we pledge for. Please go and check out the watches and the campaign here:
---